Submission
Please submit your manuscripts to Cybernetics and Information Technologies via email to: cit@bas.bg. All the requirements for paper formatting are described on the page FOR AUTHORS. Submission of a manuscript to the journal signifies that work has not been previously published and that it has not been submitted or accepted for publication elsewhere.
Selection
Submitted manuscripts are subject to a peer-review procedure. The reviewing is made by the Editorial Board, substantially supported by a pool of additional reviewers (announced in the journal). The decision on whether or not to accept the paper is made by the Editorial board.
Page charges
The regular papers do not have article processing charges. A limited number of papers (up to 2-3 in an issue) are processed by paid fast-track mode in order to publish the paper in the next journal issue (if submitted at least 1 month before publication date). The fee for fast-track processing is 450 EURO per paper; it is paid only if a submitted paper is positively reviewed.
Special thematic issues
The additional thematic issues are intended to present extended variants of selected papers presented at international scientific events. The event organizers send to CIT Editor-in-Chief a proposal for publishing a thematic special issue that contains the proposed title of the issue, the event description (link), names and detailed CV's of proposed guest editors and expected numbers of papers in the issue. The special issues must contain 8-20 papers with the paper length of 10-15 pages (up to 200-250 pages in total). The selected papers should be written by authors from different countries and no more than two papers with the same author(s) are allowed to be included into the special issue. The cost for publishing a special thematic issue is: 300 EURO per paper (including a preface) for up to 12 papers and 250 EURO per paper (including a preface) for more than 12 papers. The cost should be covered by the event organizers.
The guest editors are responsible for reviewing and selecting high quality papers to be published in the thematic issue and for writing a preface of the issue. The selected papers must provide a minimum of 50% new content and not exceed 30% copy/paste from the proceedings paper. All reviews (at least two per paper) should be sent to CIT Editor-in-Chief for approval.
After both sides agree on all the details a contract with the organizing university/institution is signed for publishing the special issue. The special issue will be published up to 2 months after receiving the final texts in the required journal format and the Licenses to publish from the authors.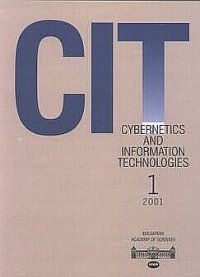 Print ISSN: 1311-9702
Online ISSN: 1314-4081
Frequency: 4 issues per year